Organize Your Jewelry Box
Organize Your Jewelry Box
Posted on Monday, November 30th, -0001 at 12:00 am by Cara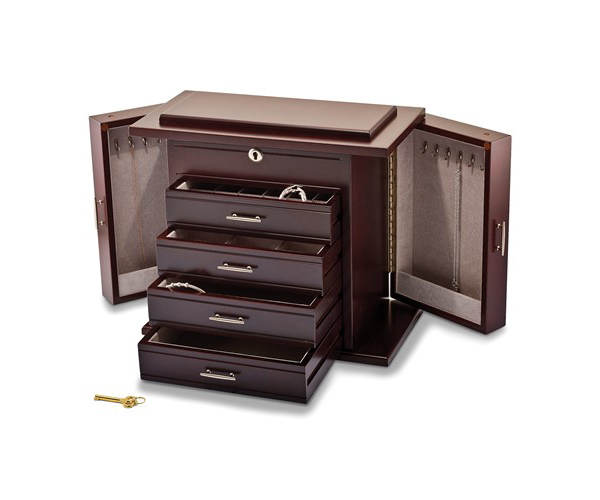 Our tips for jewelry care start by storing treasured pieces in an organized, clean jewelry box. If you're like most of us, your jewelry box is likely cluttered and unorganized. But, getting jewelry organized is easier that you might think. It's also very important. Storing jewelry properly will help ensure it will last for generations to come. The right jewelry organization can also help you to see your jewelry so you can wear it more regularly.
Don't jumble your jewelry
Always store your jewelry in a clean, dry place. Keep your jewelry in a fabric-lined jewelry case, or in a box with compartments and dividers. If you prefer to use ordinary boxes, wrap each piece individually in soft tissue paper. This keeps your jewelry untangled and will help keep it from tarnishing. Look for a jewelry box style with many small compartments rather than the styles that have a few larger sections.
Separate your everyday jewelry
Jewelry that is worn often can be placed it in a smaller jewelry box or in jewelry trays. Find a box or tray that can be kept accessible. Find one that matches your style so it can be left on top of a dresser. Many women don't wear their beautiful pieces of jewelry because they overlook them or accessing them is difficult. Keeping jewelry accessible will help you find what you need and remind you of what you have. Remember though, that a secure safe is still your best bet to store your irreplaceable gems that you wear infrequently.
Hang jewelry up
There are a variety of organizers that have a hanger-like hook with numerous clear pouches. Those styles are a great way to keep your earrings separate and visible. Place one pair of earrings in each pouch to ensure that the posts will not scratch the other earrings. Hang them on the back of your closet door or even hanging in your closet.

Implementing these simple organizing tips will make over your jewelry box and ensures you enjoy your jewelry for years to come.